Translation services in Cape Town 2023
We have spent more than a decade building up a team of highly qualified and experienced translators for South Africa's national languages. Our agency's track record as a translation service provider for high-profile clients in the medical, academic and the non-governmental sectors, has given us a reputation for complete reliability. To get a formal quote, or to learn more about how we might help you for any of SA's 11 languages, head to our home page.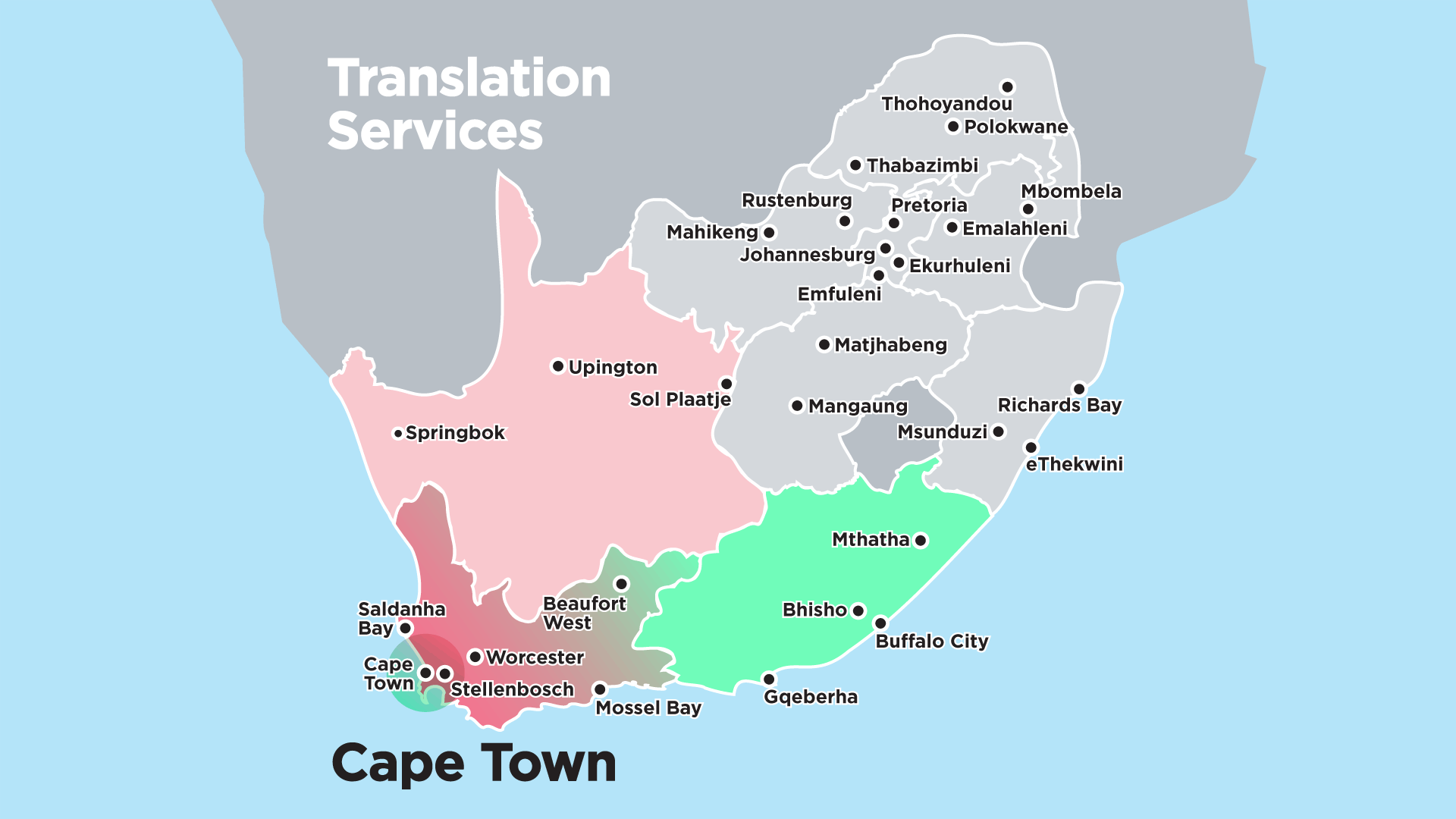 The most requested languages in Cape Town are for Afrikaans and isiXhosa translation services. These languages usually involve documents for medical and clinical translations i.e. ICFs and information leaflets, legal translations or community newsletters, from English into the two major languages.
Cape Town's languages
Cape Town has a near even split in language distribution. The three most spoken languages are Afrikaans (35%), isiXhosa (29%), and English (28%). The 2011 national census estimated the city's urban population at 3.7 million people.
Magnify your reach in Cape Town. The time a department spends on their English language editorial, design and promotion can easily reach more than twice as many Capetonians in their home language.
Reach a national audience
When translating to isiXhosa, South Africa's second most spoken language, you reach 16% of the national population, approx. 8.2 million (2011). It is spoken by almost four-fifths (79%) of the Eastern Cape and a quarter (25%) of the Western Cape provinces.
When translating to Afrikaans, South Africa's third most spoken language, you reach 14% of the national population, approx. 6.9 million (2011).
Afrikaans is spoken by half the Western Cape (50%), Eastern Cape (11%), Northern Cape (54%) and (Free State (13%) provinces. It is also the second most spoken language in the City of Tshwane.
English speakers account for less than a tenth (9.8%) of South Africans. When translating into Afrikaans and isiXhosa you will be making your documents accessible to an additional 30% of the country in their home language. This is approximately three times more South Africans than English documents reach.