Local language services in Cape Town
We have spent more than a decade building up a team of highly qualified and experienced translators for South Africa's national languages.

Our agency's track record as a translation service provider for high-profile clients in the medical, academic and the non-governmental sectors, has given us a reputation for complete reliability. To get a formal quote, or to learn more about how we might help you for any of SA's official languages, head to our home page.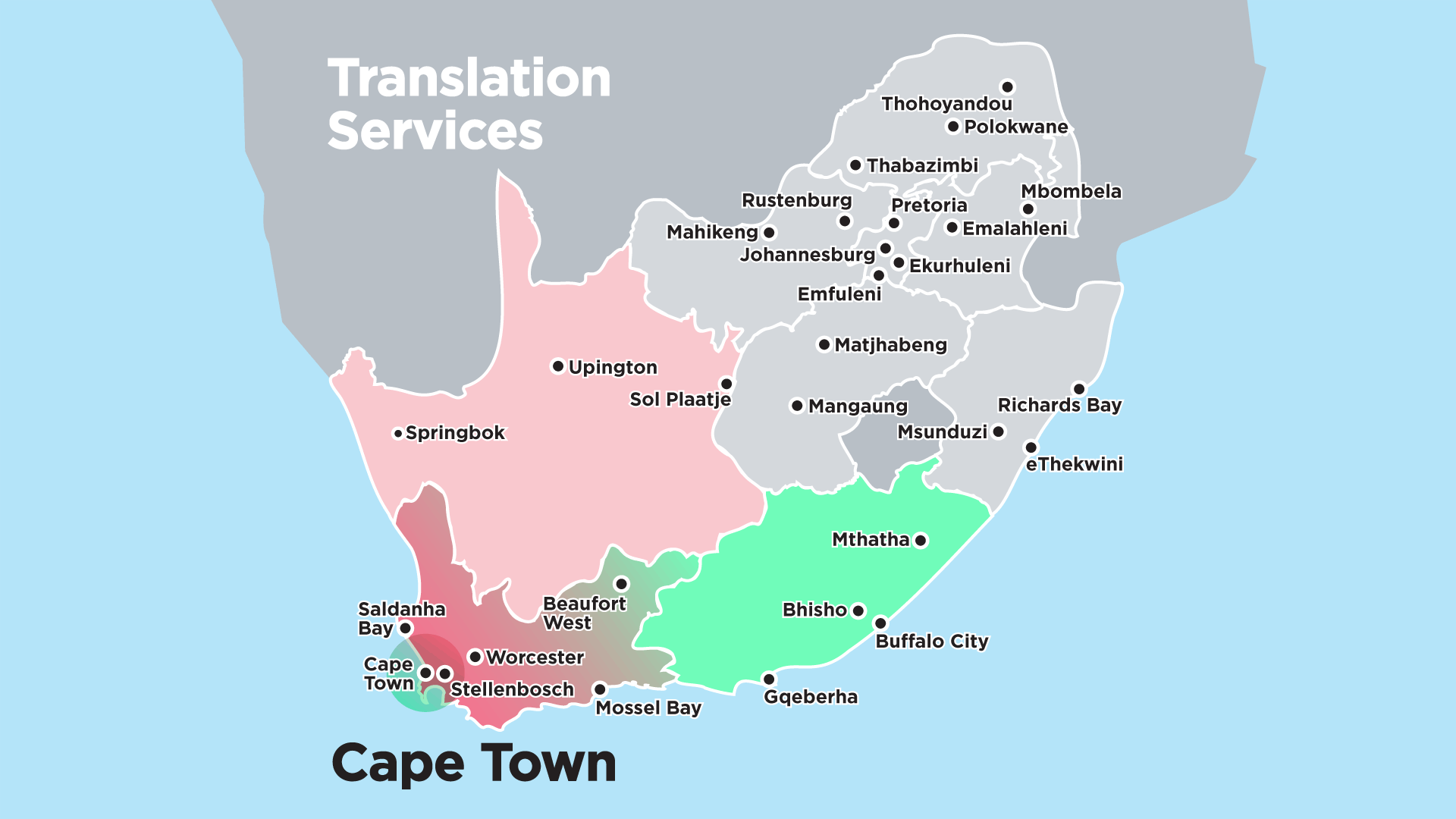 The most requested languages in Cape Town are for Afrikaans and isiXhosa translation services. These languages usually involve documents for medical and clinical translations i.e. ICFs and information leaflets, legal translations or community newsletters, from English into the two major regional languages.
Languages we translate
In Cape Town, the demand for translation services is primarily driven by the need to translate documents into Afrikaans and isiXhosa. These two languages play a crucial role in various sectors such as medical, academic, legal, and community outreach. By offering expert translation services in Afrikaans and isiXhosa, we ensure that your important documents, including medical records, information leaflets, legal materials, and community newsletters, are accurately translated from English into these major languages.
Magnify your reach in Cape Town. The time a department spends on their English language editorial, design and promotion can easily reach twice as many Capetonians in their home language.
Broaden your national audience
By translating your documents into isiXhosa, which is the second most spoken language in South Africa, you can effectively reach approximately 16% of the national population, which is around 8.2 million people as of 2011. Notably, isiXhosa is spoken by nearly four-fifths (79%) of the Eastern Cape and a quarter (25%) of the Western Cape provinces. Our professional translation services enable you to connect with these communities and ensure your message reaches a wider audience.
Similarly, when you choose to translate your documents into Afrikaans, the third most spoken language in South Africa, you can reach approximately 14% of the national population, equivalent to around 6.9 million people as of 2011. Afrikaans is widely spoken in the Western Cape (50%), Eastern Cape (11%), Northern Cape (54%), and Free State (13%) provinces. It is also the second most spoken language in the City of Tshwane. By utilizing our Afrikaans translation services, you can effectively engage with these regions and communities.
Our translators understand the importance of accurate and culturally sensitive translations. All our Afrikaans and isiXhosa documents are linguistically and contextually translated to effectively communicate your message to the target audience. Contact us today for a formal quote or to learn more about how our translation services can benefit your organization.