Xitsonga translation 2023
Welcome to our Xitsonga translation services where we cater for South Africa's eighth most-spoken language, at approximately 5% of the population. We are dedicated to providing high-quality translations that cater to the diverse needs of South Africans, particularly those residing in the north east region of the country.
South Africa's eighth most-spoken language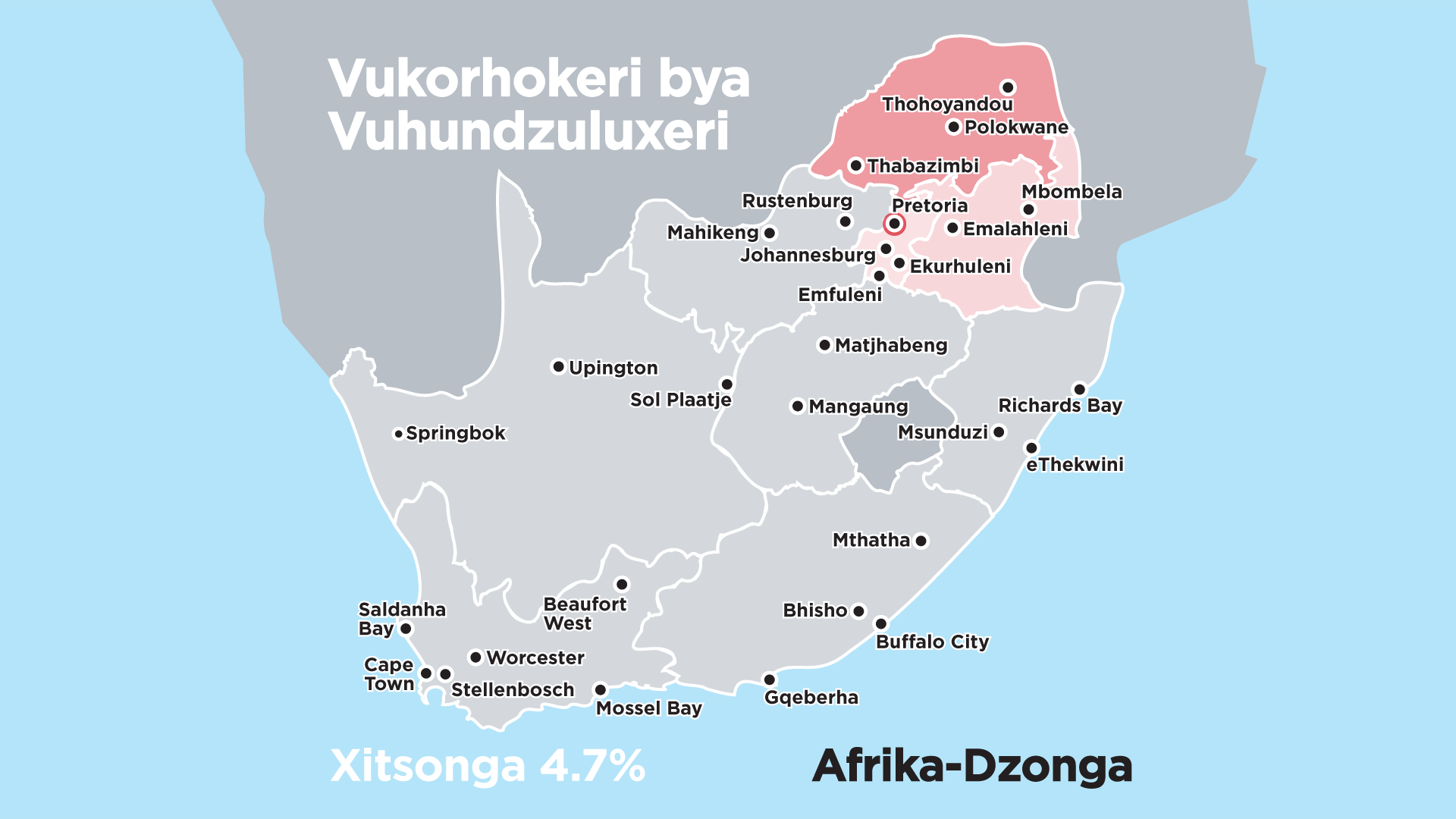 Xitsonga, often abbreviated as Tsonga or referred to as Shangaan in English, is a vibrant language primarily spoken in the north eastern parts of South Africa. It holds the distinction of being the country's eighth most-spoken language, representing approximately 5% of the population. As per the 2011 national census, over three and a half million people proudly consider Xitsonga as their home language. The language's prevalence is particularly significant in areas such as Limpopo, where it enjoys widespread usage in regions like Giyani (92% speakers), Malamulele (94% speakers), and Tzaneen (45% speakers).
It is worth noting that Xitsonga holds a special place in Mpumalanga's Bushbuckridge, where it serves as the first language for an impressive 57% of the population, comprising over half a million South Africans. Additionally, across the nation, approximately one in twenty South Africans proudly claims Xitsonga as their first language, and in the City of Tshwane, it accounts for 8.4% of the population, as recorded in the 2011 census.
Contemporary Xitsonga translations
We understand the significance of delivering translations that are not only grammatically accurate but also accessible and enjoyable for your Tsonga readership. Therefore, our translations go beyond mere linguistics, capturing the essence of the language and rendering it in a manner that resonates with the target audience. By following the latest dictionaries, including Tihlungu ta Rixaka - Dikixinari ya Ririmi ra Xitsonga, and authoritative publications produced by the Xitsonga Lexicographic Unit, we ensure that our translations remain contemporary and relevant.
Accurate and reliable translations are paramount when it comes to legal documents. Our Xitsonga translation services offer contemporary translations for legal documents, including contracts, agreements, and court filings. With our team of highly qualified Xitsonga translators who possess a solid understanding of legal terminology and procedures, we guarantee precision and clarity in every translated document.
For clients who require formal documentation, we offer translation certificates that provide comprehensive information about our translators' academic qualifications, full-time experience, and the rigorous process involved in producing the translations. These certificates serve as a testament to our commitment to delivering translations with utmost diligence and professionalism.
Our Xitsonga translation services provide contemporary translations for educational documents that cater to the unique needs of students, educators, and academic institutions. Whether it's translating textbooks, study materials, or research papers, our experienced team ensures that the essence and accuracy of the content are preserved. We understand the importance of making educational resources accessible to Xitsonga-speaking students, contributing to their academic success and fostering a supportive learning environment.
We recognize the significance of environmental awareness and conservation efforts. Our contemporary translations for environmental documents aim to bridge the language gap and promote environmental consciousness within the Xitsonga-speaking community. From environmental reports and conservation guidelines to sustainability initiatives, our expert translators ensure that the message is conveyed effectively, empowering individuals to actively participate in protecting and preserving our natural resources.
Contact us today to discuss your translation requirements and experience our exceptional services.